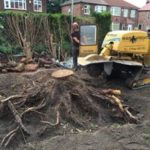 A stump grinder in Handforth is often called in when a stump left behind from a cut down tree is in the way. Many gardeners love a tree stump in the garden and make it a focal part, but for other people it needs to be removed. With special stump grinding machinery, a tree stump can be removed in no time at all. Wainwright Stump Removal operate in the North West of England, and with their 25 years of excellent services and experience, they are the company to call if you want a job well done. The skilled tree surgeons offer their excellent services across Manchester, Cheshire, Lancashire, North Wales and all surrounding areas. Apart from stump removals and stump grinding, they also offer services in the line of tree work and planting, site clearance and log and briquette delivery as well.
When a tree is cut down, it is cut as close to the ground as possible. In Handforth, a stump grinder effectively breaks down the main section at the base of the tree. Removal is made that much easier with grinding of the stump because then the stump isn't able to regenerate itself by sending out shoots which can develop into a tree again. They will remove the grindings if you like, but most people like to use them as mulch. This experienced team, with its modern machinery, is able to cope with every tree stump removal problem there is.
A reputable stump grinder in Handforth should be qualified and experienced. This kind of job has dangers and must comply with safety regulations. Contact Wainwright Stump Removal if you need stump grinder services. They only deliver quality work, and hold all the relevant NPTC certificates and are fully insured. Rely on a professional stump removal company to ensure a safely and expertly completed task.