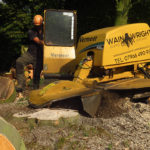 A professional stump grinder in Bramhall will improve the look of your outside area. There are a number of reasons why you should have a stump professionally removed from your garden. Not only are stumps unsightly, they can pose a danger to your young children. Children enjoy running around, and if the stump is hidden in overgrown grass, they could trip and fall over it. Stumps also attract insects. As the stump decays, it will encourage beetles, termites, ants and other wood-boring pests. While you might not mind insects in your garden, they will eventually find their way into your house.
Stumps also take up space in your garden. In Bramhall, a stump grinder is the person to call to get the stump removed. We provide an excellent service at an excellent price. Give us a ring and request a quote for the removal of the stump. We are licensed and insured, and our certifications are up to date and available to customers should they wish to see them. No matter the size of the stump, we are happy to say that no job is too large, or too small. Let us know the diameter of the stump, describe its position in relation to any fencing and, if possible, include the species of the tree or attach a photograph. We will be able to provide a quote and once you have accepted and made arrangements, we will arrive with the appropriate tools and complete the job quickly and efficiently.
Use the services of a professional stump grinder in Bramhall to get rid of the eyesore in your back garden. Our grinders will remove the stump to a maximum of 60cm below ground level. This ensures that regrowth will not occur. When you need the services of a stump grinder, contact Wainwright Stump Removal. We have gained a trustworthy reputation for stump grinding during our 25 years of experience in the industry.