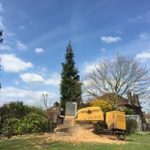 Tree stump removal in Wilmslow is needed at times by landscapers and builders. Plans for a new landscaped garden may include the removal of old or diseased trees. Once the tree has been felled, the stump will also have to be disposed of. This is where we can be of assistance. We can grind the tree stump, effectively removing all parts of the old tree, including the grindings. Our range of equipment is suitable for the removal of all sized stumps, including those that are in difficult to reach areas of the property.
For landscapers in Wilmslow, tree stump removal by our professionals will ensure a clear site in which to work. Give us a ring to find out how we can be of assistance. Our machines can tackle any sized stump, from the large to the smaller stump, as well as those that are in awkward places. We pride ourselves on providing a thorough efficient service with a smile!
Tree stump removal in Wilmslow is expertly done by our highly skilled crew, all of whom hold the required NPCT certificates and are fully insured. A free no obligation quote for effective tree stump removal requires some information from you, so contact Wainwright Stump Removal to find out what information is needed. In order for us to provide a precise quote, we will need to know the diameter of the stump, its position in the landscape, and the measurement of the access to the site. A photograph of the stump would be helpful as well as the species of tree, if at all possible. This will ensure the correct equipment will be selected for the job. Once we have provided a quote, we will arrange a time and date for the stump removal. Our grinders will remove the stump to a maximum of 600mm below ground level, with some of the grindings being used to backfill the hole. Let your landscaping plans continue, and use our expert services.