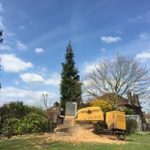 The decision to proceed with tree removal in Chorlton is often difficult. Most people would rather work around a tree than cut it down. Once a tree is removed it takes time to get used to the suddenly empty space. Sometimes, for safety reasons there is no choice but to cut it down. Trees age out and start to die presenting a safety hazard. Other times a diseased tree has to go to protect healthy trees. The tree has to come down.
You may know that for 25 years Wainwright Stump Removal has been a leading tree surgeon throughout the area. In Chorlton, tree removal is one of our services. We remove limbs and grind stumps below ground level which allows the roots to die eliminating annoying sprouts. As professionals, we leave the work site clean and ready for landscaping. Our staff are all trained, experienced and certified for all manner of tree work and that includes removing the whole tree when needed. Safety comes first at our company and that includes your personal property as well as our own personal safety. Our skill combined with the finest in climbing equipment and removal machines puts us in complete control of any tree removal job, even the tree so close to your house.
We don't know how many deaths or injuries can be attributed to property owners doing their own tree removal in Chorlton. One is one too many. A ladder or extension truck and a chain saw are not safety equipment. As professionals we know how to understand the location of the tree, the right approach to each individual tree cutting and exactly where a branch is going to land. Contact Wainwright Stump Removal and let us have a look at the tree or trees that need removal from your property. We will explain exactly how we will go about taking down any tree from any location. Our fully equipped team can make short work of even the largest trees and leave the area clean.