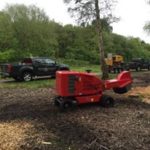 Stump grinder in Alderley Edge is sometimes needed to remove the last part of a dead tree. If you leave the stump in the ground it can often start to grow again.  If you have removed the tree because it is too close to a building the roots will keep on damaging the foundations.  The only way to get rid of it is to shred the wood well below the surface of the earth.  Some trees are small and can be dealt with quite easily.  We have various machines to cater to different situations.  Our small machines can manoeuvre into hard to reach places to grind the stumps.
When you have a tree cut down in Alderley Edge, stump grinders will remove the roots.  If you wait for the roots to rot you could wait many years.  With the stump grinder it is gone in a day and the hole is packed with the wood chips which will rot fairly quickly especially if mixed with a little earth.  The rest of the chips can be used as mulch or we can remove them for you.  When we grind the stump we are careful to try and contain the chips to stop them spreading all over your garden.  Our bigger machines can be used in more accessible places and generally work faster.
Stump grinder in Alderley Edge is an affordable way of being able to use that part of the garden again. Contact Wainwright Stump Removal today and see how we can quickly and efficiently remove the stump from your garden. We can offer quotations over the phone if you will give us the diameter of the trunk and the name of the tree.  Hardwood trees, as the name suggests, take a lot more grinding and different blades than softwood trees.  They generally take a little more time to grind down to the correct depth. We will also need to know the location of the stump and if it is easily accessible.