Tree Stump Removal & Stump Grinding, Root Removal and Maintenance
Wainwright Stump Removal are leading experts in removing tree stumps and root removal, with over 30 years experience in the field.
By clearing the area of stump and root system, this makes the area ready for replanting, turfing, landscaping, or construction work.
What is the best way to get a stump out of the ground?
The tree stump removal process involves removing a tree or large shrub at ground level where a small proportion of the trunk or stem remains in the ground. This is known as the "Stump". A stump can remain in the ground without causing any harm but if you want to replant or lay more lawn, add a new building or fence, you may want to remove the stump.
The best way to dig out is by using a stump grinder machine which has a large cutter wheel with a number of teeth. This is positioned close to the stump and lowered progressively whilst panning left to right until the stump is ground out. Our wide variety of stump grinding machines are capable of removing any size stumps to a depth of 24 inches below ground level.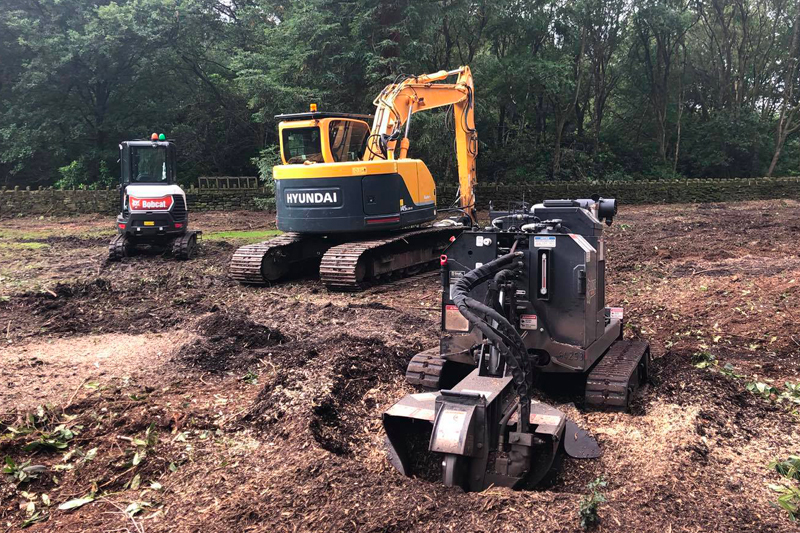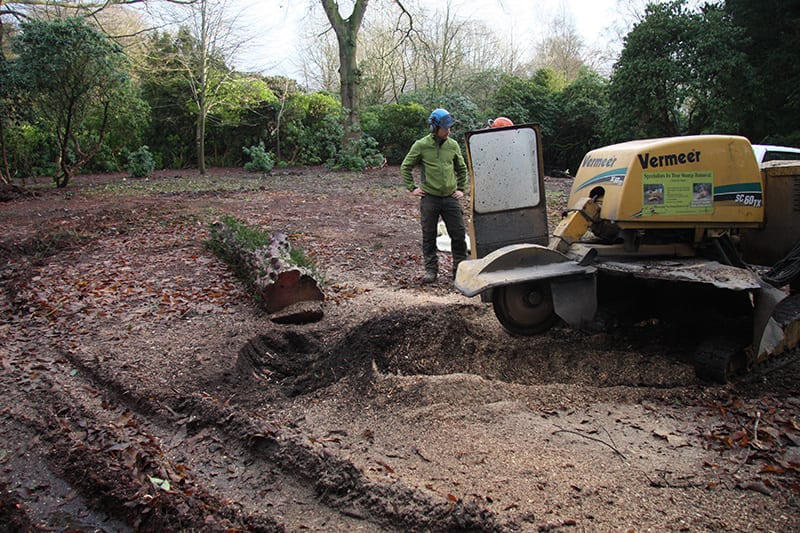 Machines for all stump types and sizes
Wainwright's stump grinding services in Altrincham uses several sizes of grinding machinery, depending on the location and extent of the stump and root system to be removed. Please note that such machinery is heavy, and whilst every care is taken to minimise damage to surrounding areas, it may not be possible to completely remove the stump if trees and other obstructions, such as walls, prevent access. Steep banks and tight corners may also be too unsafe for machinery to operate in.
The grindings from the stump removal process are normally left on site, for the client to use as a garden mulch, or recycled via the green garden waste bins. Whilst the stump removal may generate a large quantity of material, this method keeps costs down and is environmentally friendly.
As the leaders in stump removal across North West England and North Wales, we are able to provide clients with a free, no obligation estimate for the task, which can be given over the telephone if necessary. We undertake private and commercial work, providing there is sufficient access for our machinery, and offer an efficient service at your convenience, with the minimal disruption.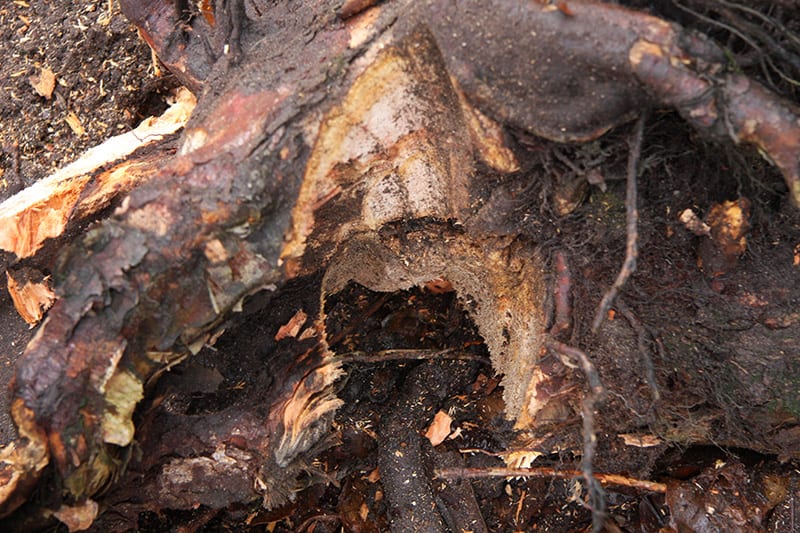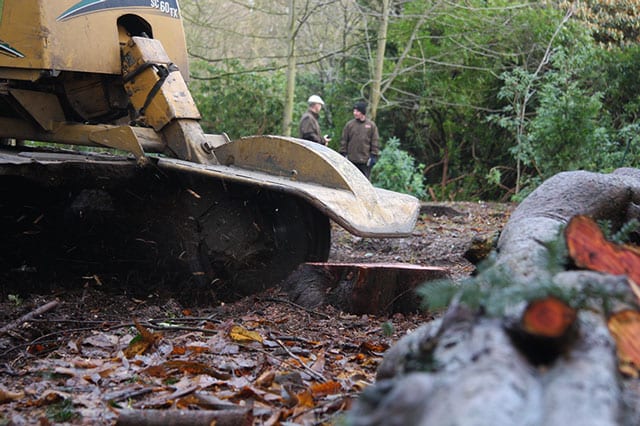 Removing stumps the Wainw(right) way
Wainwright's Tree Stump Removal in Altrincham provides a trusted specialist tree removal service, leaving the site of the removed stump and roots system ready for replanting, turfing over, landscaping, or built over. As a professional arborist with over 25 years of experience in tree management, felling and stump removal, should you need to remove a tree in Timperley, Hale or Altrincham, or elsewhere in the region, you can trust Wainwright's Tree Stump Removal Services to safely fell the tree with the minimum of disturbance.
Tree stumps are not cut down to ground level. Stumps of sufficient height can be left for carving into an interesting garden feature, or the tree will be cut down to just above ground height, and treated with a poison to destroy the stump. Should the tree species be one of the more aggressive types, such as ash, where the remaining stump can send out new growth, or the remaining roots are able to generate not just one new tree but several, complete removal of both stump and tree roots will be required. Your professional arborist will be happy to advise on either grubbing the stump out of the ground, or we will provide our Stump Grinding service Altrincham.
How to get a quick quote for tree service
Measure the diameter of the tree stump.
Measure the access to the site at its narrowest point.
Describe the position of the tree stump and any obstacles around it.
If possible identify the tree species or just simply send us a photo.
Our process for professional tree stump removal
1. Arrange a time and date to suit you
Contact our friendly team and let us know your stump specifications and we will prepare a quote for you. Once you have accepted the quote, we will arrange a date and time to suit you and will arrive with the appropriate machinery.
2. Safety first
All our team operators are fully insured and have the NPTC Level 2 Certificate of Competence in Stump Grinding Operations and other relevant qualifications. Once on-site, we will work efficiently and with care. We always place guards to ensure that the grindings don't spread.
3. Final clean up
The stump grinder machines will remove the stump to a maximum of 600mm below ground level. Some of the grindings are used to backfill any holes. The remaining grindings will be left and can be used as a mulch. If you wish us to remove the mulch please inform us and this can be arranged, but will incur an additional charge.
4. Re-landscaping after stump removal
Once we have completed tree stump removal, re-landscaping can take place and the site can be replanted or hard landscaped to suit your requirements. Please note that different tree stumps can produce varying amounts of grindings as it depends on the species and condition of the tree.