Stump Grinding
Leading experts in removing tree stumps with over 30 years experience
What is Stump Grinding?
When removing a tree or large shrub to ground level, a small proportion of the trunk or stem remains in the ground. This is known as the "Stump".
A stump can remain in the ground without causing any harm. However; if you wish to replant or lay more lawn, then it is necessary to remove the stump. The stump will also need removing for: a new building / outhouse to be constructed, a new fence to be erected or when it is just not appealing to leave an old stump in the lawn.
The most efficient way of removing a stump is by using a stump grinder.
The stump grinder has a large cutter wheel with a number of teeth, this is positioned close to the stump and lowered progressively whilst panning left to right until the stump is ground out.
You can see the progress our stump grinders make and what remains.
These machines are capable of removing smaller stumps to a depth of up to 24 inches below ground level. We can also undertake larger stumps with bigger machinery.
Measure the diameter of the stump
Measure the access to the site at its narrowest point!
Describe the position of the stump and any obstacles
Identify the tree species or send us a photo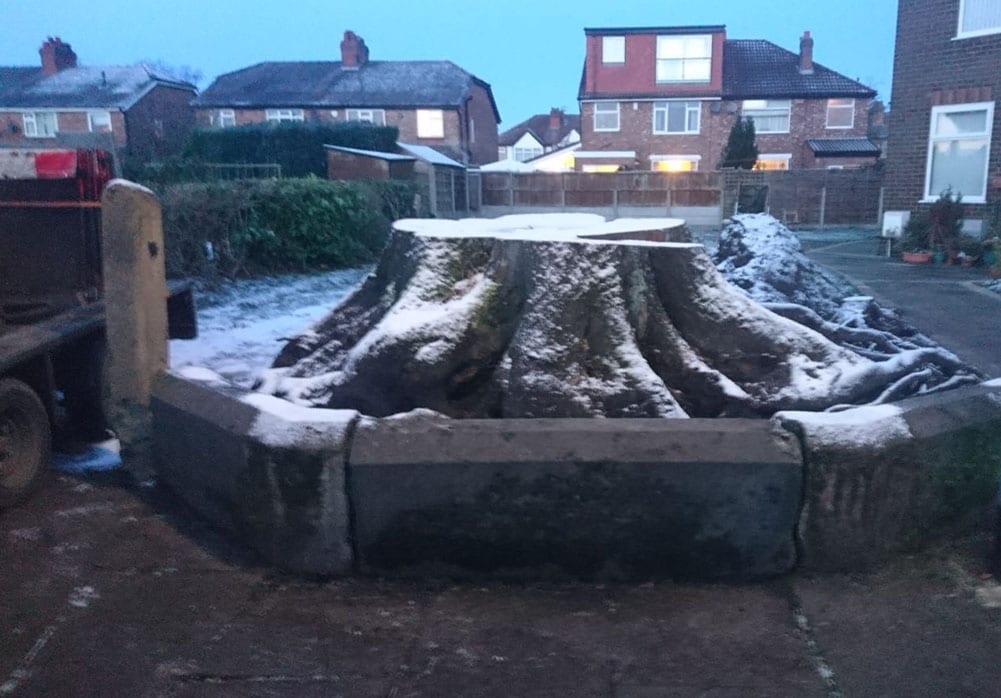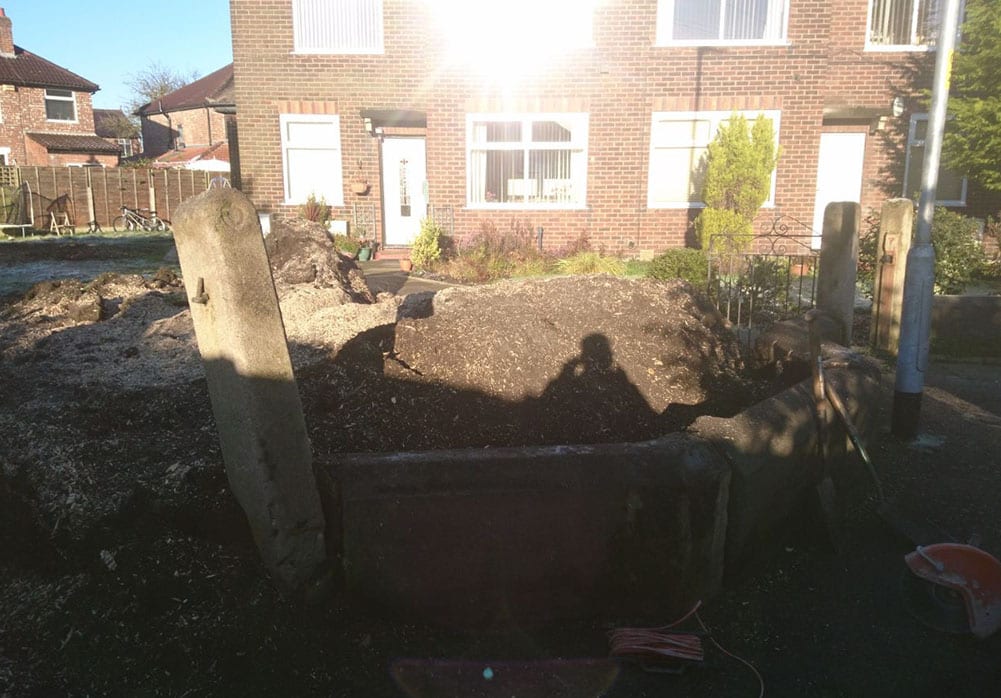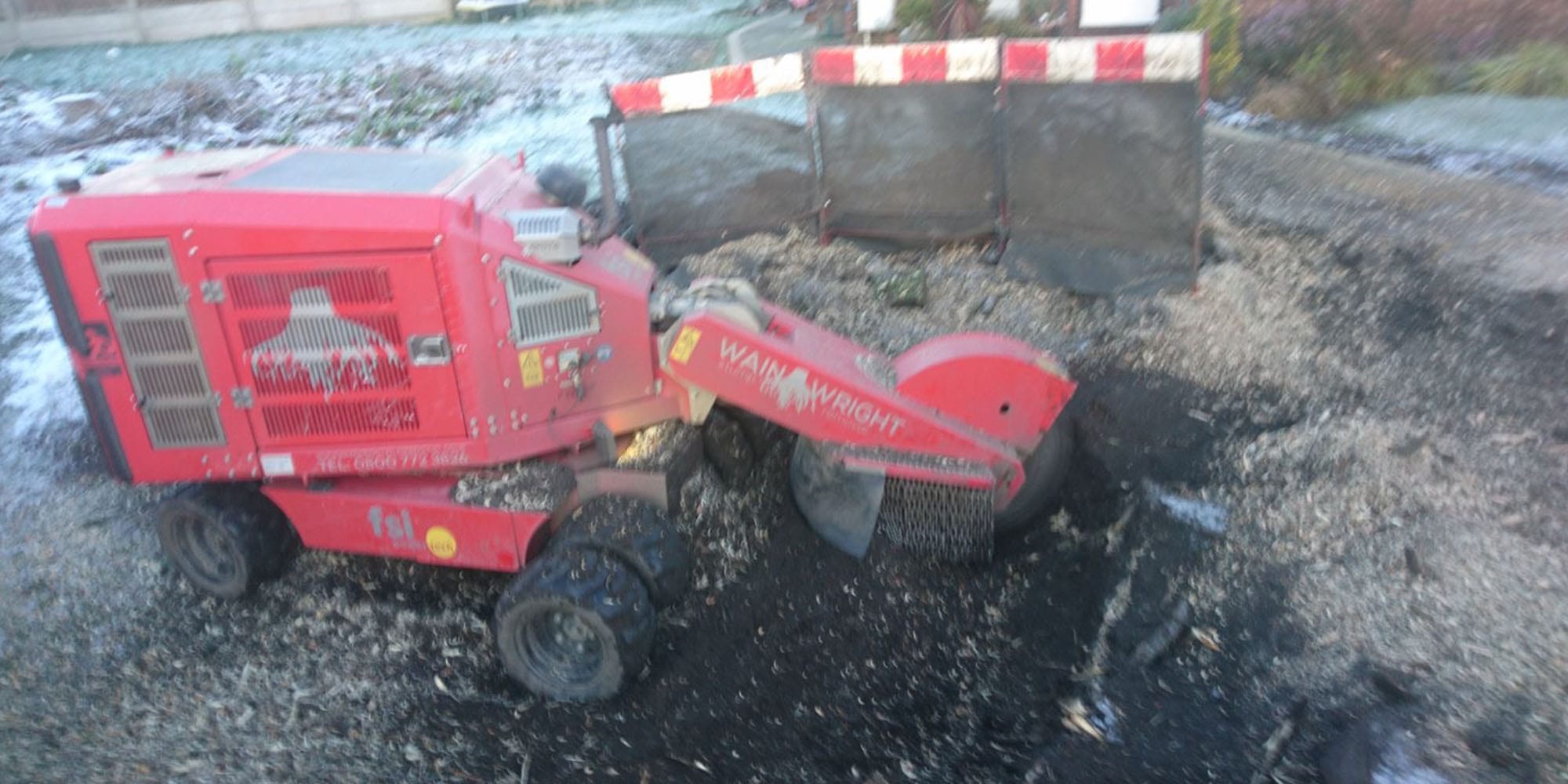 1. Arrange a time and date
Once you have accepted the quote we will arrange a date and time and arrive with the appropriate machine. All operators are fully insured and have the NPTC Level 2 Certificate of Competence in Stump Grinding Operations and other relevant qualifications.
2. Safety first
Once on site we will place guards to ensure that the grindings don't spread any further than they need to.
3. Final clean up
The grinders will remove the stump to a maximum of 600mm below ground level. Some of the grindings are used to backfill any holes. The remaining grindings will be left and can be used as a mulch. If you wish us to remove them please inform us and this can be arranged, though this will incur an additional charge.
Re-landscaping
Once the stump has been removed re-landscaping can take place and the site can be replanted or hard landscaped to suit the customers requirements.
Please note that different tree stumps can produce varying amounts of grindings, it depends on the species and condition of the tree.
Do not hesitate to call us for a free no obligation quote. We operate throughout the North West of England and have worked in Altrincham, Sale, Timperley, Knutsford, Wilmslow, Chester, Manchester, Liverpool, Oldham, Bolton, Stockport and all over Greater Manchester, Cheshire, North Wales, Merseyside and Derbyshire.