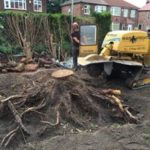 For tree stump removal in Didsbury, it is recommended that you use a professional company. After a tree has fallen or felled, there is typically a remaining stump. Leaving a tree stump in your back garden poses a number of safety risks that should not be ignored. When the neglected stump gets covered by grass or weeds, you might accidentally run over it while cutting the grass. This could cause damage to your lawn mower, and you may have to pay for repairs or buy a new one. When a stump is covered in grass, you or your children could trip over it.
A tree stump is also not very pleasant to look at. In Didsbury, tree stump removal will improve the aesthetics of your back garden. Tree stumps can take nutrients from surrounding plants, their decay can breed fungus that infects nearby trees, which may then need to be chopped down too. Decaying tree stumps can house termites, ants, beetles, wood wasps, snakes and rodents, all of which can cause damage to your yard and your house, as well as harm you and your family. If you have considered the cons of leaving a tree stump in your garden, but don't have the manpower to remove it yourself, consider the services of an expert stump grinding company. For over 25 years, we have provided an expert and efficient stump grinding service to our customers throughout  Cheshire, Manchester, North Wales, Lancashire and all surrounding areas.
Tree stump removal in Didsbury will also ensure the possibility that new growth from the stump is removed. Our skilled team has all the relevant NPCT certificates and are fully insured. As such, we can remove any sized stump, and grind below ground level, from small back gardens to large construction sites and everything in between. If you need assistance with tree stump removal, contact Wainwright Stump Removal. With an enviable reputation for efficient, quality work, delivered professionally and with integrity, we are proud to deliver a personal service to all our clients. Ensure your back garden is neat and safe with a professional tree stump removal from the professionals.