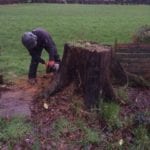 A company that provides a service for tree stump removal in Didsbury will be necessary once an old tree has fallen or been felled. There are a number of reasons why removing a tree stump is necessary. The first is that a tree stump can be unattractive in an otherwise beautiful garden. Tree stumps also take up space in your garden. You could use the tree stump as a garden feature by planting pretty flowers in it. Tree stumps do have the potential to cause new tree growth and can result in new sprouts growing up around it. Soon your pretty garden feature will be a tangle of new growth.  Tree stumps can also be dangerous. It would be awful if a visitor tripped over the tree stump and injured himself.
To maintain your beautiful garden in Didsbury, tree stump removal will be necessary. Removing a tree stump may sound like an easy chore, completed in a few hours. It can, however, be difficult and will require the right type of machinery to ensure it is properly removed. Speak to a company that provides stump grinding services if you want the tree stump properly removed. Wainwright Stump Removal is the company you should use to have the tree stump removed. With over 25 years of experience in the stump grinding business, they have the knowledge, expertise and equipment to ensure a proper job.
Professionally done tree stump removal in Didsbury, without any fuss or mess, is best left to the experts. Contact Wainwright Stump Removal for assistance with tree stump removal. As one of the most recognised stump removal operators in the North West, you are guaranteed of a professional service. They also hold all the relevant NPTC certificates and are fully insured. They have the experience and the machinery to remove the tree stump. This is done by grinding the stump to break down the main base of the part of the tree that is left behind. Once the stump has been ground, the grindings are left as mulch to provide nutrients to the soil and encourage plant growth. Have the unsightly tree stump removed, and nurture the rest of your garden with the remaining grindings.