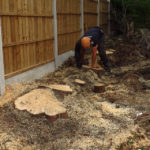 Do I really need a service for tree stump removal in Chorlton? This is a question that services like Wainwright Stump Removal get asked frequently. We have a quarter century's experience in this field and are today one of the most reputed, reliable and recognized companies in the North West for stump removal services. Headed by an experienced tree surgeon, Wainwright offers a range of services including tree climbing/pruning, surgery, planting and stump grinding/removal. We can assist you with our services whether you're a domestic or commercial client, professional landscaping designer, property developer, insurance provider etc. It's important to handle stump removal in a professional way, otherwise you could end up risking your life and limb and/or damaging property.
For homeowners in Chorlton, tree stump removal should be undertaken as quickly as possible after the tree has been cut. Otherwise, it can pose a danger because people can trip over it and fall, seriously injuring themselves. Many people feel that it's better to let the stump gradually rot and get absorbed into the earth by itself. This is good practice in large wooded properties and natural forest areas. In residential and urban properties, stumps are not just unsightly, they can prevent optimal use of the available space. They're a hazard to the movements of children and seniors. If you had removed the true due to disease or infection, leaving the stump in the ground could allow the spread to neighbouring vegetation, plants and trees. Stumps in your lawn can pose a hazard to your lawn-mower blades and replacing them can be a very expensive proposition.
Tree stump removal in Chorlton is essential to prevent insect and fungus infestation. Wood-eating insects can become a threat to your building if the stump is not removed in time. For more details out our tree stump removal service, contact Wainwright stump Removal. When you hire us, we first conduct a thorough, detailed survey of the site. This allows us to gauge the dimensions, obstacles, access problems in the property and the nature of the work and time and effort required. We use modern, heavy-duty equipment, comply with local regulations and take all the necessary safety measures.