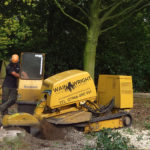 We offer tree stump removal in Chorlton. This is our core business although we also perform tree surgery and professional planting. When a tree has died in your garden you will need it to be removed. It usually needs to be removed piece by piece to avoid damaging buildings. We are professional tree climbers and dismantle the tree. All that is left is the stump and this is where our specialist machines prove their worth. We use our stump grinder machines to turn the stump into wood chips and sawdust. The machine grinds the stump down to 600mm below ground level and allows you to reuse the space.
If you have had a tree blown down in a storm you will need the remains removed. In Chorlton, tree stump removal and elimination of tree trunks are our most popular service. We are very careful to trap as much of the wood chips as possible so that they can be used to fill the hole left.  Any leftover chips can be used as mulch in your garden. If at all possible it is useful to know whether the tree is hardwood or softwood as this makes a difference to the time it takes to chip the stump. If the area is very open we can use a bigger machine that will take less time.
Tree trunk removal in Chorlton is a necessity after a tree has died. Contact Wainwright Stump Removal today if you are searching for expert tree stump removal. Our business is over 25 years old and we have increased our knowledge and expanded the business in the last few years to include tree surgery and tree climbing. Our experienced team are all fully trained in health and safety and take great care to avoid damage to your garden. If you would like a quotation over the phone you will need to measure the diameter of the stump. You will also need to inform us of the whereabouts of the trunk in relation to other buildings, fences and plants in the garden.