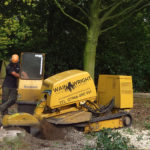 Need help with tree removal in Bowdon? Whether you have to clear a site to build up a property or you want to remove a tree that's been affected by disease, the safest course of action would be to reach out to the professionals in the field. That's because they have all the right equipment and know-how when it comes to tree removal. Not all trees are similar, each has their own strengths and weaknesses and may require very different approaches. Thus, if you find yourself in a situation where you have to remove a tree, its stump and so on, don't hesitate to let us know at Wainwright Stump Removal.
Having been in the field for more than 25 years, you can expect a professional tree removal service. In Bowdon, tree removal also involves removing the stump. When you give us a ring for a quote, be sure to provide a description of the tree if possible, as this will help us determine the type of equipment and tools that we need for the job. Moreover, it's also important that we know whether access to the tree to be removed is big or narrow. In case it is narrow, we have a small grinder that we can use to carry through spaces that are more constricted in nature. When we are removing a tree, we may also remove the stump, however, this will mostly depend on the demands of the customers. If you are clearing the site for future development, it is advisable to remove the stump to prevent it from growing again and we will be glad to help you. Even though it may seem easy, stump grinding is perhaps more exhaustive and dangerous than felling a tree. Luckily, however, we have a variety of equipment and skilled labour force to help us carry out the job without any glitches.
Whenever you require tree removal in Bowdon, make sure to call in the experts. For any additional information, please contact Wainwright Stump Removal. We can tackle stubborn stumps, cut down trees that are huge and are proud of the high quality services that we are constantly providing our clients.