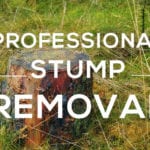 You may need a professional company for stump removal in Wilmslow if you have a tree that has fallen in the last strong winds. The tree might have been diseased and rotten in the inside which is why it fell so easily. The stump is still firmly rooted and needs to be removed. Leaving the stump where it is will cause problems along the line. A tree stump will regrow after it is cut, and some stubborn trees and shrubs sprout repeatedly, even if they are constantly cut to the ground. It is advisable to have the stump removed, particularly if the tree was diseased.
In Wilmslow, stump removal is necessary. It is a lengthy process and removing it should best be left to the professionals. Wainwright Stump Removal is a registered company and has 25 years of experience in dealing with the removal of tree stumps. They have the necessary NPTC certificates, and these are available to view online. It is important to use the correct machinery to ensure the stump is removed effectively and safely.  Wainwright Stump Removal uses machinery operated by their qualified staff to ensure safety. They are also fully insured. Trees sometimes grow in the most unusual places and it can be a huge challenge to remove their stumps, especially if they are on a steep slope. Wainwright Stump Removal will give you the best advice regarding the removal of the tree stump.
Stump removal in Wilmslow is a breeze for Wainwright Stump Removal. They will ensure that the stump is removed  to a maximum of 600mm below ground level. A guardrail will be placed to minimise the spread of the grindings. The grindings will be removed should you require this, or they will be used to backfill the hole, and the remainder can be used as mulch. Contact Wainwright Stump Removal for professionally and safely done stump removal.