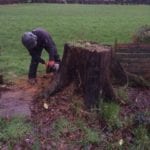 Stump removal in Didsbury can be necessary when the removal of a tree has been required. No one likes to remove a tree but when they get old, diseased or pose a danger, they have to be cut down. The stump needs to be removed so that the area can be reused for other plants or to replace the tree. Consider contacting Wainwright Stump Removal to assist with the removal of the stump. Firstly the stump needs to be taken down to ground level. This can be done with a chainsaw. The tree stump will then be ground down to a maximum of 600mm below ground level.
In Didsbury, stump removal is carefully done. The area around the stump has guards in place to stop the pieces of grinding from spreading around your garden. The grindings can be used to fill the hole that is left or as mulch in the rest of the garden. To ensure that the right machine is sent to remove the stump, it helps to send a photo of the stump and a brief description of its situation in the garden. If it is in a corner or a hard to reach spot Wainwright will need to send a smaller machine. The type of tree will determine the type of equipment needed. Once you have measured the stump and sent all the information, a quotation can be offered.
Stump removal in Didsbury starts when the quotation is accepted. The highly trained machine technicians at Wainwright will arrange a suitable time with you and will arrive with the appropriate equipment. They will expertly remove the stump in the shortest possible time depending on the size and hardness of the stump. The utmost care will be taken not to disturb surrounding vegetation. The grindings can be removed at an extra charge if you do not need them, but most gardens will benefit from using the mulch. If you need more information about stump removal, don't hesitate to contact Wainwright Stump Removal.