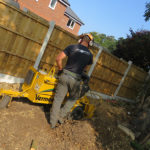 Stump removal in Alderley Edge is, at times, needed by builders, landscapers and gardeners. The construction of a new building will require the removal of trees and their stumps. A tree may have fallen in a domestic garden and need clearing. This is where we can be of assistance. For over 25 years we have provided a professional stump removal to our clients, from smaller gardens to large commercial plots. Removing a tree stump is not recommended yourself as it requires specialised equipment to ensure the removal of the entire stump, including the roots that are left behind.
For both commercial and domestic properties in Alderley Edge, stump removal is as easy as contacting us for a quote. In order to ensure the correct machinery for the effective removal of the stump, we will require some information regarding the stump such as its diameter, whether its location is easily accessible, and the type of tree it is. Our skilled team have all the required certification, and are all fully insured. When you use our services you can be sure that the stump will be effectively and safely removed. Our team is also safety conscious, taking care to plan and execute the stump grinding to the highest of standards.
Stump removal in Alderley Edge is affordably priced. Contact Wainwright Stump Removal today for a competitive, no obligation quote. We can grind the tree stump, effectively removing all parts of the old tree, including the grindings. Our range of equipment is suitable for the removal of all sized stumps, including those that are in difficult to reach areas of the property. Our team will place guards around the stump to ensure that the grindings do not spread further than they need to. The grinders will ensure that the stump is removed to a maximum of 600mm below ground level. Some of the resulting grindings will be used to backfill any holes. The remaining grindings are ideal to use as mulch for the rest of your garden. We provide a quick and efficient service, and we provide ourselves on our thorough service.