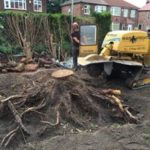 For stump grinding in Didsbury call Wainwright Stump Removal. We have all the equipment to get into the tightest spots and grind the stump of the largest trees. Our team gets the job done leaving the customer with a clean site. Our customers are often surprised by the additional space available when we remove a stump in their garden. It doesn't look like it's taking up much room but once it's gone, you realise how much space around the stump was being encroached upon. We grind the stump, clear the site and suddenly, there's this wide open area ready for your landscaping ideas.
Our natural world is filled with trees and they contribute hugely to our well-being. When we're working in Didsbury, stump grinding and clearing the site we continue to receive benefits from trees. The wood chips from the stump grinding can be used to feed other plants. As necessary as trees are, they become a hazard when damaged or dead and they have to come down. Other times trees must be removed so commerce can move forward. It's important that the tree not grow back which is why we grind the stump. When we grind a stump, we go down six inches below the surface of the ground. If we didn't, the roots would seek nutrients and grow another tree in the same area. By grinding it down and backfilling the opening we make sure little tree sprouts don't pop up all over.
When you need stump grinding in Didsbury for one tree in your garden or a field of tree stumps to prepare for new construction, call professionals. The machines we use can cause a lot of damage in inexperienced hands. You don't want injuries, damaged property or cut utility lines. Contact Wainwright Stump Removal for professional stump grinding. With over 25 years in the business, our name is well established in the area. Our team members are certified, insured and safety trained to protect your property and our safety. We have built our reputation on integrity which is why we never leave a cavernous hole when we remove a stump. The area is left clean and safe. If you choose, we will plant a new tree for you on the site.