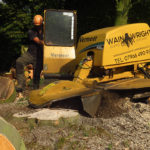 The UK does not let just anybody handle dangerous equipment for commercial stump grinding in Didsbury.  Neither does insurance companies. At Wainwright Stump Removal we are safety certified on every piece of equipment we use in our tree business. We are fully insured as well. These are important qualifications that home and business owners should look for when hiring tree work of any kind. When someone brings dangerous equipment like stump grinders onto your property you want to be sure the rest of your property is safe from damage and that you have no liability for mishaps. It's also comforting to know that the workers know what they're doing so you can expect a job well done.
When you factor in our 25 years of experience Wainwright Stump Removal is the most trusted name in tree care and stump removal. In Didsbury stump grinding requires a machine that will handle the size of the stump. We have the equipment for any sized job and the skill to manoeuvre it into the tightest spots. If you need a tree removed, we are prepared for that job. When a tree falls during a storm, we can remove the debris. In both scenarios a stump is left behind. The best way to remove it is stump grinding. Letting it rot can take years during which weeds grow up out of it and insects infest it. Digging it out is hard labour and you may end with a broken spade.
Stump grinding in Didsbury is the way to remove a tree stump. We grind it several inches down below the surface of the ground so the roots will die and not spread to other plantings. The affected area may be large but we clear out all debris and leave the area clean. The shavings from grinding the stump are used to fill in the hole left after grinding. We will move out all our equipment and debris leaving a clean space behind.  Contact Wainwright Stump Removal and we will come out and give you a free estimate for stump grinding. You will find our prices fair and we work closely with most insurance companies.