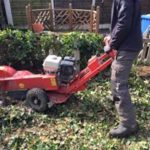 Stump grinding in Didsbury is best left to the professionals. If you have had a tree cut down a short time ago, it is likely that the tree's stump was left behind. The stump will need to be ground down using specialist machinery by a team with the experience and the know how to do it safely and professionally. If the tree needed to be felled for the safety of your property and family and your garden's, there is very little reason to keep the stump. A tree stump can also be dangerous, as well as an eyesore.
After a tree has been removed from your garden in Didsbury, stump grinding completed by Wainwright Stump Removal will ensure the professional removal of the stump. Our team has years of experience and are skilled and professional. They have all the appropriate  NPTC certificates, and are experienced in their field. We are also fully insured. If you have a stump in your yard that needs to be removed, give us a call for a free, no obligation quote. In order to fully understand the type and size of the stump to be ground,  we will need some information from you when you call. The size and diameter of the trump, the access to the stump, as well as any obstacles in the way, and if possible, the type of tree stump it is will all assist in our choosing the most appropriate machine for the grinding.
Stump grinding in Didsbury means that you will not have any eyesore in your yard. It also means that there will be no potential danger. If you would like to know more about our stump grinding service, contact Wainwright Stump Removal. We have established ourselves as the most recognised stump removal company and have over 25 years of experience in the industry. Known for our efficient and quality work, we ensure a professional and safe service. We have provided our professional stump grinding service to a range of clients, including private home owners, tree surgeons, property developers, insurance providers and landscape gardeners.