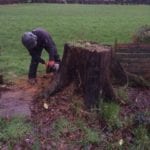 Stump grinding in Didsbury is important to do after a tree has been felled. A tree stump poses a fair amount of risks if left in the garden or on the sidewalk. Tripping over or stubbing toes on tree stumps is quite common, especially once the grass had grown tall enough to hide it. The roots of a stump are still absorbing water and nutrients, and soon new shoots will starting growing from the stump. The top of the stump could also begin to rot, inviting a number of fungi and bacteria to thrive. To avoid these kinds of hassles, it is best to have a stump removed soon after it was cut.
No matter how large the tree was or how deep the roots grew in Didsbury, stump grinding from Wainwright Stump Removal will effectively clear away the stump. We are professional tree surgeons with many years of experience in stump grinding. From back gardens to construction sites, no job is too complicated for us. We have specialised machinery that can access even the most hard-to-reach sites, whether it is a small back garden or busy construction site.
Stump grinding in Didsbury is just one of the services we offer, in addition to tree felling, tree climbing, tree planting and any other manner of tree surgery. Contact Wainwright Stump Removal for stump grinding and removal. We will grind the stump up to 600mm below ground level to ensure that new growth does not occur. The grindings are used to fill the hole left by the stump, and you can use any leftover grinding for garden mulch. We can also remove the grindings if you wish for a small additional fee. For quick and efficient service with guaranteed results, contact us today. We are fully insured and hold all the relevant NPCT certificates, so you can rest assured you are receiving top quality professional treatment.