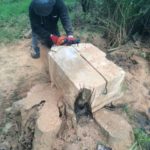 If you need professional stump grinding in Bramhall, reach out to Wainwright Stump Removal today. Leaving a stump around after felling a tree comes with many risks. The area around stumps tends to be a breeding space for weeds which could easily spread. Cleaning around tree stumps has to be done manually since the roots could easily cause damage to a lawn mower. The roots of tree stumps can trip children at play, causing injuries. Things could easily escalate to unwanted levels if those roots trip a neighbour. Apart from the fact that tree stumps left standing will mean eventual tree growth, these stumps often end up as a decaying haven for termites, ants and other wood borers which will eventually enter your house and cause you trouble.
You don't have to go through all this. In Bramhall, stump grinding services are just one of the services we make readily available for those in need. We are ready to take care of that stump for you! When you reach out to us, make sure to include a photo of the stump; let us know if it is softwood or hardwood if possible. And also, mention the location of the stump in relation to your house. If possible, try to measure the access to the site. All this information helps us decide on which machine we need to bring to your location. Based on the information you send us, we will send you a quote. If you are happy with our quote, we can then settle on a date and time when we can come and rid you of the stump.
If you seek stump grinding in Bramhall, our prices are highly competitive and simply will not be beat. Think of all the present and future problems that unsightly stump poses and decide to take care of it today. Contact Wainwright Stump Removal for more information about stump grinding. We can assist you with a professional and safe stump grinding service.