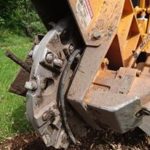 As a leading stump grinder in Timperley, at Wainwright Stump Removal we know that removing a tree is only one part of the job. Stump grinding is then done to the remaining tree stump. Some people like the stump to be left behind, making attractive gardens around it, while others want it removed completely to make way for paving or safety. We use our stump grinder machine with its rotating disk to entirely remove the stump. We have small machines that can access stumps growing in small, cramped areas. People call us in because stump grinding is the quickest way to remove a tree stump, making light work of a job that used to take far longer before these useful machines were developed. It's always sad to take a tree down, but you will at least get some superb mulch for your garden. If your tree had any disease, stump grinding gets rid of the infected stump which puts an effective end to the possibility of disease spreading to other trees.
At Wainwright Stump Removal, with our 25 years of experience in the industry, we've become a leading stump removal operator in the North West of England. In Timperley, a stump grinder like us has built up a reliable reputation as tree surgeons. We offer a range of other services beyond stump grinding, and we trim, plant and maintain trees. We don't do anything rash, and with our NPTC certificates and being fully insured, you can ensure that we do everything well and safely.
If you're looking for a stump grinder in Timperley, contact Wainwright Stump Removal. To receive a quote, simply measure the diameter of the stump and let us know its position and the type of tree it is. This is because we have machines that deal better with hard or softwoods. Our operators and grinding machines will remove the stump to a maximum of 600mm below ground level. We can leave the shavings in your garden if you like, or we can remove them – we're here to please our customers and to continue offering the tip-top services we're so well known for.