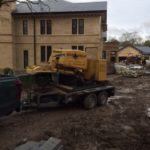 If you're looking for a reputable, trustworthy and reliable stump grinder in Heaton Mersey, look no further than Wainwright Stump Removal. We have provided professional stump grinding and tree stump removal to all our clients for over 25 years. We pride ourselves on providing a thorough service that is quick and efficient. We know how dangerous and unsightly a tree stump in your back garden can be. An unattended stump can cause unwanted accidents when a child trips and falls over it. It is also unsightly and can attract wood boring insects.
Just because a tree has been felled, it doesn't mean that it stops growing. In Heaton Mersey, a stump grinder will ensure that the stump left behind after the tree is felled is completely removed.  We are well equipped to handle any sized stump and grind below ground level. As a professional company, we have all the relevant NPCT certificates. We are also fully insured. In order to receive a quote, there are a number of requirements. First measure the diameter of the stump. It will also help if you could measure the access to the stump to be removed. Please describe the position of the stump and if there any obstacles in the access to it. It will also help if you could send a photograph of the stump as well as identify the tree. While this is not obligatory, it will assist us in determining the best machine for the job.
A stump grinder in Heaton Mersey has all the necessary qualifications and machinery to remove the stump in your garden. If you would like more information, or would like to request a free quote, contact Wainwright Stump Removal. Once you have received the quote, let us know the most suitable time and we will bring the appropriate machine. We will place guards around the stump so that the grindings do not scatter around your yard. Our team will remove the stump to a maximum of 600mm below ground level, leaving your garden free of the unsightly stump.