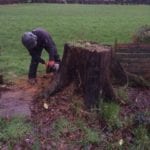 We at Wainright Stump Removal understand how to perform stump grinding in Handforth with ease, care and minimal disruption. Most properties end up with at least one stump at some point or another. While initially they may not be troublesome, with time stumps can cause a host of unique problems. Understanding these problems and dealing with them effectively is one of the main aspects of our business. Dealing with stump removal for over 25 years in a variety of situations, we have the experience and expertise to know that we can help you, whatever your situation may need.
No matter where in Handforth stump grinding is needed, with our dynamic fleet of machinery we will have one that can get straight to the root of your problem. Clearing a stump by hand can be a back-breaking task. No matter where your stump is, we will have a machine that can deal with it, saving your back, and ours. Once the stump has been ground down, the remaining wood chips can be left for your garden to munch on or removed at your discretion. When working in your garden we are mindful of your space you have created and do our best to not impact on it at all. With experience working on all kinds of gardens, from manicured golf course lawns to assisting property developers on building sites we know just what to do.
Wainright Stump Removal offer more than just stump grinding in Handforth. To find out more about stump grinding and other services, contact Wainwright Stump Removal.We are able to assist with tree surgery, landscaping and tree planting. So if you are wanting a new tree planted in place of the one that has been removed we can offer advice and assistance on that too. With all the correct documentation and certification, as well as being fully insured you can relax, knowing that going out on a limb is our job, not yours. For a no obligation, free quote, send us the details pertaining to your stump requested on our website and we can respond with our competitive price options. We will help your garden turn over a new leaf.